MVE Direct Current Motovibrator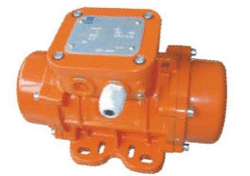 MVE Motovibrator DC
MVE Direct Current Motovibrator Applications
MVE DC series motovibrator is to be used in special vehicle which only with DC power source for material transportation and separation.
MVE Direct Current Motovibrator Features
Use 12V/24V DC power source as power supply. Use aluminium housing, which can greatly reduce the weight of integral equipment, increase the capacity to handle the material. Light weight, small bulk, high rank protection and insulation are its features, It complies IEC60034-1 standard.
MVE Direct Current Motovibrator Model Code

MVE Direct Current Motovibrator Operation Conditions
Ambient temperature:<40℃
Altitude:<1000M
Rated voltage:12V 24V
Insulation class:H for the key part and F for wiring block
Duty type:S1
Protection type:IP65
MVE Direct Current Motovibrator Technical Data and Dimensions