YZUL Three Phase Motovibrator Vertical
YZUL Motovibrator Vertical Applications
YZUL series vertical motovibrator is new vibrating source for various kinds of spin vibrating machine, it is suitable for vibrating screen, filter, spin-vibrating screen, vibrating cleaner, vibrating burnisher, vibrating crusher, etc., it is used in food industry, chemical industry, Ceramics, electronics, nonmetallic mineral, metallurgy, chemical industry, etc..
YZUL Motovibrator Vertical Features
YZUL series vertical motovibrator is composed by special motor and two vibrators up and down, use advanced single frange mounting arrangement, YZUL series owe following advantages,
1.Small shape, light weight, quick starting.
2.Lower noise, saving energy, high efficiency.
3.wide range of vibrating force and easy adjustment, no mechanical vibration conduction needed.
4.Easy installation and maintenance, long lifetime.
YZUL Motovibrator Vertical Model Code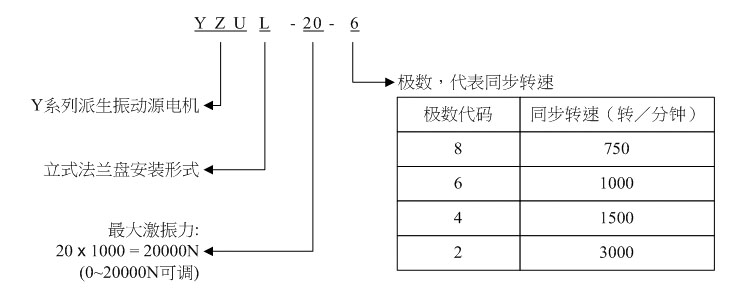 YZUL Motovibrator Vertical Operation Conditions
Ambient temperature:<40℃
Altitude:<1000M
Rated voltage:380V(Also can supply 415V,440V, 460V,660V)
Rated frequency:50Hz (Also can supply 60Hz)
Connection:Y
Insulation class:B/F
Duty type:S1
Protection type:IP54
YZUL Motovibrator Vertical Technical Data and Dimensions